Governance at a Glance
| Board Members | Audit | Risk Oversight | Compensation | Nominating & Corporate Governance |
| --- | --- | --- | --- | --- |
| | | | | |
| | | | | |
| | | | | |
| | | | | |
| | | | | |
| | | | | |
| | | | | |
| | | | | |
| | | | | |
Committee Charters
Dan Henson
Dan has a proven track record of driving growth in multiple global companies over a 30+ year career with demonstrated expertise in the capital markets, financial services and technology industries.
He worked for General Electric Company for 29 years, where he held a variety of senior positions at GE and GE Capital, including Chief Marketing Officer of GE and Six Sigma quality leader at GE Capital. He also served as CEO of a number of GE Capital's financial services businesses in the U.S. and internationally.
Since 2016, Dan has held a wide range of executive and non-executive board positions. He was previously Director of Healthcare Trust of America and lead Director of OnDeck Capital. Following that, he served on the boards of various Blackstone investments including as non-executive Chairman of Exeter Finance, a leading auto finance company, and non-executive Chairman of Tempo Holdings, the former parent company of Alight Solutions, a leading cloud-based provider of integrated digital human capital and business solutions.
Following the listing of Alight Solutions on the NYSE in July last year, after a business combination agreement with Foley Trasimene Acquisition Corp., William P. Foley II became Chairman of the newly formed board and Dan was appointed as Director with responsibility for overseeing the nomination and governance committee. He also serves as non-executive Chairman of IntraFi Network, a privately held firm serving approximately one-third of all U.S. commercial banks and thrift institutions.
Dan holds a B.B.A. in Marketing from George Washington University.
Bruce Lowthers
Bruce Lowthers joined Paysafe as its CEO in May, 2022. He also serves as Executive Director on the Paysafe Board.
A high-profile payments and fintech executive, since joining Paysafe Bruce has been focused on driving growth and has made a number of significant changes to date. These include re-setting the company's growth strategy; simplifying its organizational structure from five business units to two i.e., Merchant Solutions and Digital Wallets; and recruiting significant talent into the company to focus on customer experience, product innovation and creating a sales culture. These changes have already returned Paysafe to growth and created new momentum that the team is building on.
Before Paysafe, Bruce spent 15 years at FIS, a Fortune 250 company operating in the merchant solutions, banking and capital markets. While at FIS, Bruce most recently served as President, responsible for growing the $15B revenue global organization with over 65,000 employees. In this role, Bruce was credited with accelerating the speed to market of innovative new products and services, heightening cross sell opportunities, and strengthening the overall client experience. Earlier executive roles in FIS saw Bruce leading and modernizing some of the company's largest businesses including the Banking, Merchant Solutions and Payments businesses.
Before FIS, Bruce was an executive at eFunds, an electronic payments company, where he was responsible for all payment and risk products. Before eFunds, he was a serial entrepreneur and successfully co-founded and led four start-up companies and two payments industry associations - American Transaction Processors Coalition (ATPC) and Payments 20 (P20), the global payments body.
In 2020, Bruce was named Business Unit Transformation and Operational Excellence President of the Year. The year before, he was named Executive of the Year in the BIG Awards for Business, and he has also been recognized as Operations Executive of the Year by the Best in Biz Awards in 2018 and 2019.
Bruce holds a bachelor's degree in business administration from the University of Massachusetts – Lowell and began his career as a certified public accountant.
Mark Brooker
Mark joined the Paysafe Board in July 2021 and brings extensive, complementary experience to the team.
Mark was previously Chief Operating Officer for Trainline, Europe's largest independent retailer of rail and coach tickets. Before Trainline, he was Chief Operating Officer of Betfair Group PLC, a leading online gambling operator and now part of Flutter Entertainment. In his earlier career, Mark spent 17 years in investment banking working for the likes of Morgan Stanley, Merrill Lynch, NatWest and NM Rothschild & Sons.
Mark also brings a diverse range of Non-Executive Board Director experience and currently sits on the boards of Findmypast, a leader in online genealogy, where he is Chairman; Future PLC, a global platform for specialist media and member of the FTSE250; Equiniti Group, a leading provider of share registration, pension administration and other technology enabled business outsourcing; and Seedrs, a digital fund-raising platform for early-stage businesses. He also recently served as a Non-Executive Director of William Hill PLC, one of the largest gambling operators in the UK, before the Board was dissolved following its acquisition by Caesars Entertainment in April this year.
Mark holds a Master's Degree in Engineering, Economics and Management from Oxford University in the UK.
Matthew Bryant
Matthew is a Managing Director at CVC, based in London. He joined CVC in 2019 and is a member of the financial services group. Prior to joining CVC, he worked at Bain Capital in London. Matthew holds a master's degree in physics from the University of Oxford.
Anthony Jabbour
Anthony Jabbour has served as a member of the Paysafe Board since 2021. Anthony is the Chief Executive Officer of Dun & Bradstreet, a leading global provider of business decisioning data and analytics. Anthony's focus on growth and innovation are foundational to his strong track record of leading successful businesses throughout his career.
In May 2022, Anthony became the Executive Chairman of Black Knight, Inc., a premier provider of software and data and analytics to the mortgage and consumer loan, real estate and capital markets verticals. He previously served as Chairman and CEO of Black Knight where he helped substantially increase organic growth, led the company to deliver numerous digital solutions and other innovative capabilities, and oversaw nine acquisitions to provide greater shareholder value and help transform the industries Black Knight serves.
Prior to joining Black Knight, Anthony was the Chief Operating Officer of Fidelity National Information Services, Inc. ("FIS"), a global leader in financial services technology.
Anthony joined FIS in 2004, where he held positions of increasing responsibility in operations and delivery services as a key member of the executive leadership team. During his tenure with FIS, Anthony consistently helped the company grow through a solid combination of organic growth, product expansion, market penetration, and strategic acquisitions.
Anthony began his career in IBM's Global Services group, where he managed complex client relationships and projects, including the launch of a stand-alone internet bank for CIBC, a major Canadian financial institution. That achievement led him to join CIBC, where he built similar capabilities for the company's U.S. market.
Anthony holds a bachelor's degree in electrical engineering from the University of Toronto.
Dagmar Kollmann
Dagmar Kollmann is Chairperson of Citigroup Global Markets Europe AG. She is a member of the Supervisory Board and Chairperson of the Audit Committee of Deutsche Telekom AG, member of the Supervisory Boards of Unibail-Rodamco-Westfield SE and of Coca Cola European Partners. Previously, she has been Deputy Chairperson of the Supervisory Board and Chairperson of the Audit Committee of Deutsche Pfandbriefbank AG, Deputy Chairperson of the Supervisory Board as well as Chairperson of the Audit Committee of Hypo Real Estate Holding AG, and a member of the Supervisory Boards of KfW-IPEX Bank GmbH and Bank Gutmann AG.
Dagmar is a Commissioner in the Monopolies Commission in Germany, a permanent and independent expert committee, which advises the German government and legislature in the areas of competition policy-making, competition law and regulation. Its reports are published.
Previously, Dagmar was CEO of Morgan Stanley Bank AG in Frankfurt. In addition to her role as CEO and Country Head for Germany and Austria, she was a member of the Boards of Directors of Morgan Stanley International Ltd. and Morgan Stanley & Co International, Ltd. in London.
Prior to joining Morgan Stanley, Dagmar worked at UBS Philips & Drew Ltd, both in M&A and subsequently in the Equities Division. Past mandates include a membership in the Advisory Board of the EUREX Group and the role of "Sherpa" in the "Initiative Finanzplatz Deutschland."
She holds a Master Degree in Law from the University of Vienna.
Jonathan Murphy
Jonathan Murphy joined Blackstone in 2021 and is a Managing Director in the firm's Private Equity Group, where he focuses on investments in the technology and financial technology industries.
Prior to Blackstone, Jonathan spent over eight years at Francisco Partners, a U.S.-based private equity fund that focuses on investments in the technology industry. While at Francisco Partners, Jonathan was involved in the firm's investments in Civitas Learning, Dynamo Software, eFront, Lucidworks and Operative.
Before joining Blackstone, Jonathan worked at CPPIB in the Direct Investment Group and Morgan Stanley in the Investment Banking Division.
Jonathan received a Bachelor of Commerce from University College Dublin where he graduated with First Class Honors.
Eli Nagler
Eli Nagler is a Senior Managing Director in the Private Equity Group at Blackstone, where he focuses on investments in the financial services and technology sectors. Since initially joining Blackstone in 2007, Eli has been involved in the execution of the firm's investments in over ten separate transactions, including Alight Solutions, BankUnited, Bayview Asset Management, Lendmark Financial Services, Paysafe, and Vivint.
He also serves as a Director of Lendmark Financial Services. Before rejoining Blackstone after the completion of an MBA, Eli worked at the United States Treasury Department in the Office of Capital Markets.
Eli received an AB magna cum laude from Harvard College and an MBA with distinction from Harvard Business School, where he graduated as a John L. Loeb Fellow. He is also a Term Member of the Council on Foreign Relations.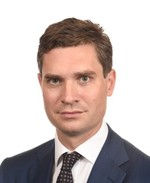 Peter Rutland
Peter is a Partner at CVC, he joined in 2007. Peter is Co-Head of CVC's Financial Services Group. He is based in London.
Prior to joining CVC, he worked for Advent International since 2002. Prior to working at Advent, Peter worked for Goldman Sachs in the Investment Banking Division. Peter holds an MA Degree from the University of Cambridge and an MBA from INSEAD.